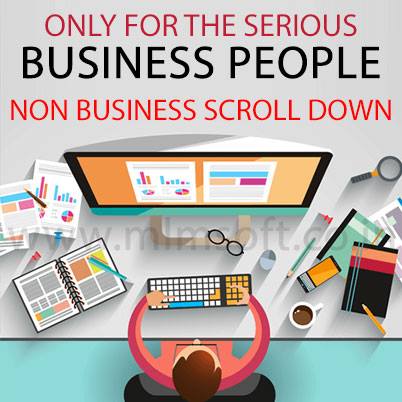 Hello Friends,
We should not opportunity in life and we all are aware of this fact. Generations are changing and idea and technology too. Just the basic pattern is same. For being success in today's life we must live in today's market. If we Google, name of successful people then all the success people have relation with technology, computer, website, application etc. Then why should we not? We can also start our own business. We can also explore our business online and worldwide. 
So, friends if you have business and you are serious with your business and career then must have a business website. Any Business required update, and it's time to go digital. Generally those who are engaged with school or educational institution, event organizer, social work and NGO, puja and local program committee, gift item store, antique business, sweets corner, large scale small scale industry and factories, tourism business, car bus any vehicle supplier, go down or stock keeper, food canteen, electronic appliances, loan and settlement agency etc. You must have a website.
We have an awesome opportunity for ambitious business people, providing a dynamic website with admin control and semi marketing tool. Prices start from ₹ 1200/- per page to design work your valuable website. So contact us to get your business digital.
Success requires a decision and if you have power to make decision then we are just a click away to develop a branded #dynamic #business website for you.
So, now it's your time to launch a new website. We also deal in multi-level marketing #software. Worldwide hosting service available.
Website: http://www.mlmsoft.co.in/
WhatsApp: https://bit.ly/2A2EFRO
Send your Plan: sales@mlmsoft.co.in
@MLMSoft Special attraction for MLM People and most motivated network marketing leaders